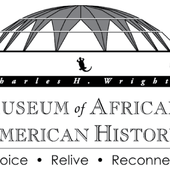 Charles H Wright Museum
The world's largest institution dedicated to chronicling the African American experience.
... more info
Archived Events
Spirit of Detroit: A Play a...

Civil Rights in the African...

Leonard Pitts Lecture

American Hues: The Passing ...

Praise Song for Mandela

Detroit's Very Own: Detroit...

THE SECRET SOCIETY OF TWIST...

Harold Varner Memorial Service

Convergence in the Midst of...

Councilwoman Joann Watson R...

Hip Hop Caucus Edutainment 101

SEAN BLACKMAN'S BRAZILIAN P...

SOCIETY of TWISTED STORYTEL...

SOCIETY of TWISTED STORYTEL...

Hope's Alabaster Box .....A...

Grandparents Day / Patrice ...

Load More

Society of Twisted Storytel...