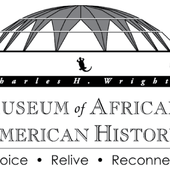 Charles H Wright Museum
The world's largest institution dedicated to chronicling the African American experience.
... more info
Archived Events
George Shirley 80th Birthda...

Women's History Month Tribute

Advancing The Women and The...

What the Word Be: Why Black...

Black Women Rock Concert 10...

Chokwe Lumumba: Celebration...

Love for The D

Spirit of Detroit: A Play a...

Civil Rights in the African...

Leonard Pitts Lecture

American Hues: The Passing ...

Praise Song for Mandela

Detroit's Very Own: Detroit...

THE SECRET SOCIETY OF TWIST...

Harold Varner Memorial Service

Load More

Convergence in the Midst of...