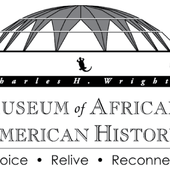 Charles H Wright Museum
The world's largest institution dedicated to chronicling the African American experience.
... more info
Archived Events
Ed Gordon Interviews Henry ...

INSPIRING OUR CHILDREN FOR ...

DRAMATIZING THE REVOLUTION:...

Embracing the Vision: Globa...

" THE GOOD OL' DAYS "

African Liberation Day: Fra...

Tapestry: A Spiritual Odyssey

WHY WE LAUGH

SECRET SOCIETY OF TWISTED S...

George Shirley 80th Birthda...

Women's History Month Tribute

Advancing The Women and The...

SECRET SOCIETY OF TWISTED S...

What the Word Be: Why Black...

Black Women Rock Concert 10...

Load More

Chokwe Lumumba: Celebration...